Free shipping on orders above $99
Login
Log in if you have an account
Register
Having an account with us will allow you to check out faster in the future, store multiple addresses, view and track your orders in your account, and more.
Create an account
Retractable Hose Systems
Retractable Hose Systems
A retractable hose system is a central vacuum hose that retracts into the wall with the simple suction power of your central unit.
This is the perfect solution for simple and efficient cleaning
There is no need of storage space for your hose. It automatically stores itself inside the piping, right behind the inlet. 
A retractable hose system solves the problem of carrying and storing a central vacuum hose. Simply pull out the amount of hose you need and begin vacuuming. When you're finished, the suction from the central vacuum power unit retracts the hose.
Hose lengths are customized according to the size of the floor. Each inlet can cover up to 2300 square feet. Retractable hose systems require the combination of a powerful central vacuum unit and a smooth installation of the piping. Depending on the size of the home and length of piping needed, our specially trained sales technicians can help you choose the right unit for your system.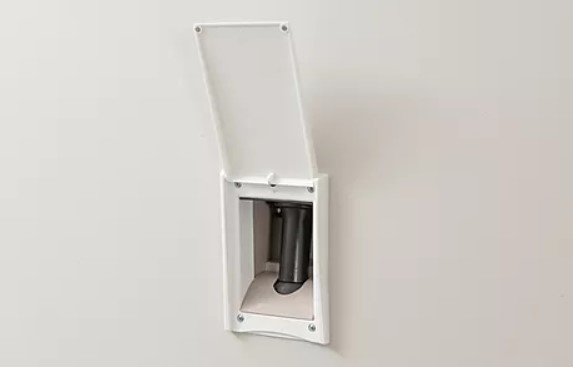 No more Kinks in the hose as it is no longer stored in a closet or stuffed in a box. The hose you comes out straight which makes vacuuming a breeze. 
No additional cords or bulky covers
Faster than conventional hose methods
40', 50', and 60' Hoses available
Never carry a hose again  
Adaptaple to conventional inlets (Champort adaptor)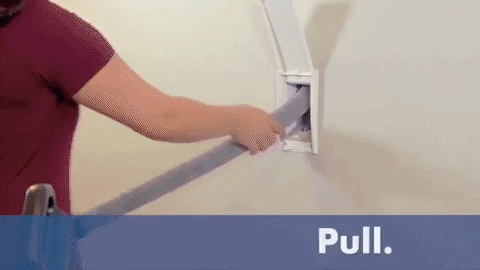 New Construction
If you are planning to build your dream home in the near future, there will never be a better time to install a retractable hose system. Make sure that you alert your builder that you want a retractable hose system.  Installation is best done after plumbing and HVAC work is completed, and before insulation and drywall are installed. We strongly recommend you have VacWorks specially trained technicians install your retractable hose system as they are experienced with retractable hose systems and will install it right.
Existing Home or Remodeling
Retractable hose systems are preferably installed during the building process of your home or in homes that have unfinished basements. That said, as long as there is access to an attic, garage or crawl space, a retractable hose system can be installed in most homes. One our qualified sales agents would visit your home to make sure the system can be installed. A retractable hose system does not use your existing piping, it requires special wide radius fittings as the hose stores in the PVC tubing. Please ask us for a visit or for more information regarding your home.